Attendees will gain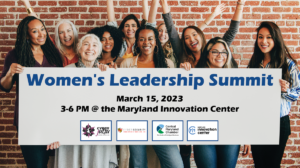 insights from some of Maryland's most accomplished women and guidance on addressing timely and relevant issues that impact women, both at work and home. There will be opportunities to network with peers throughout the Summit.
Themes of the Summit include:
Reignite your career: Encourage women to work on career interpersonal and intrapersonal skills with a purpose and a plan.
Define and refine your brand: Harness your expertise and skills for career growth
Amplify your influence: Equip women with the tools needed to increase their leadership impact.
AGENDA
3:00 PM – Registration and Networking
3:30 PM – Program
5:00 PM – Networking