Kathy Warden was born and grew up in the small town of Smithsburg, Maryland.  She graduated from James Madison University in 1992 and in the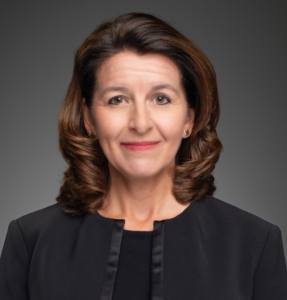 early part of her career she worked for GE, Verizon, and General Dynamics.  She joined Northrop Grumman in 2008 as Vice President and General Manager of the Cybersecurity division.  In 2016 Kathy became President of the Mission Systems Test Sector, COO of the Corporation in 2017, and this past January 1st was named Chief Executive Officer.
Recently I met with Kathy at Northrup Grumman's headquarters in Falls Church, Virginia.  We discussed a wide range of topics, but what stood out as I reflected on our conversation, was her thoughtfulness and passion for people and mission.  Enjoy!
Mike Gill
Chairman, Evergreen Advisors
Interview with Kathy Warden
---
Small Town Girl
MG: You went to school in Smithsburg, a town of 3,000. It keeps being named the safest city in Maryland. What's the secret?
KW: There's only 3,000 people, and they all know one another.
MG: From a small town to CEO of Northrop Grumman: Is there some part of you that was shaped by that experience in terms of character and values? Have you ever thought about that?
KW: I have actually thought about that quite a bit. I'm still just that small town girl. I think values and character are very much shaped in those early stages of one's life. Being in an environment that was so small, where people knew one another and trusted each other and understood their character based on what they did, not just what they said – that shapes you as you become older.  You realize how important character is to building relationships with people.
MG: In high school, were you part of clubs and organizations?
KW: Interestingly, when I was in high school, I was involved, but also looking at what was next. I finished high school by going to the local junior college to get some college credits in my senior year. I interned in a law firm, trying to get exposed to new things. That really helped to shape my thinking about what I was going to study in college. Then I abandoned all of that when I got to James Madison and switched majors. I decided to go in a completely different direction, switching from pre-law into computer systems.
MG: Tell me about your family.
KW: I come from a very humble background, with my parents working traditional blue collar jobs.  They taught me the value of setting goals and working hard to achieve them.
MG: You were the first generation going to college, and you chose James Madison.
KW: My sister and I were the first in our family to go to college. She was older, and in many ways, she helped show me a path. The two of us took the next steps, based on our parents' strong will for us to achieve what they didn't have the opportunity to do.
MG: Would you change anything if you could?
KW: Nothing. I tend not to look backward and question how things could have been if I did something different.  Instead, I try to learn from mistakes and focus my attention to the future.
Here Come "The Dukes"
MG: How did you choose James Madison?
KW: I knew very little about school choices. At that time, college counseling in Smithsburg was a very small team – a computer in a room and a faculty member. I remember not having a lot of resources at my disposal. So I did it based on a brochure and just some comparative analysis of the schools I had to choose from. I hadn't even visited campus until orientation, but I was so sure it was the place for me to go.
MG: James Madison has become a national university. Share a couple of great memories.
KW: James Madison is very student focused. From the day I arrived on campus, it was clear to me that the faculty was there to teach. They were there to help students learn holistically – not just the content and core curriculum in your major, but also the experience of working with others and the experience of doing things outside of the classroom to help foster learning.  It was the perfect place for me.
Starting a Career
MG: You received an MBA at George Washington, then worked for some great companies – General Electric, Veridian, General Dynamics – before joining Northrop Grumman. What were some of your takeaways from these early career experiences?
KW: The first thought that comes to mind is taking the nontraditional path. I joined General Electric in the information services group. I then moved within GE, going from one business group to the next, just to get exposed to as much as I could. It taught me that sometimes the path that others take isn't the right path for you and that you should have the courage to do what you believe is going to build your experience base.
I then changed industries altogether to come to the aerospace and defense industry. That was post 9/11, and it was really a desire at that point to have my work mean something more than just supporting the objectives of the company. I pursued a path in national security, but I was certain I would return to the commercial space. I never did because I feel deeply connected to the purpose of our work in this industry. When the Northrop Grumman opportunity came, it was an ideal fit. With the company's history, reputation, and values, I knew I'd be proud to work for a company like Northrop Grumman and make a difference in the areas I cared about. The opportunity was even greater than I imagined.
MG: How did 9/11 affect you, your work, and your career?
KW: There definitely became a greater purpose in what I was doing in my life. I always cared about the quality of my work, but working in national security gave me an added perspective. Now my work was about other people and making the world a better place.
Northrop Grumman
MG: You joined Northrop in 2008 as a Vice President to lead Northrop's Cyber Team in Information Systems. A lot has happened since 2008 in cyber. Tell us about this starting point in your Northrop Grumman career, and cyber today at Northrop.
KW: In 2008, we were really putting the business together. I came here to take on that role, and to develop the strategy of how we turn a set of capabilities into a thriving business. Working with clients across the intelligence community, the federal government, and the Department of Defense, we've done just that. Not just in the U.S. but globally. We have the strongest cyber business in the aerospace industry.
Leadership and Leading
MG: Let's talk about leadership. You are the CEO of one of the most important companies in the world. What are the leadership qualities that you value most?
KW: I value strong ethics, integrity, and respect. Intellect is important, but it alone does not create a good leader.  Leaders need to bring energy and motivation that inspires others. Leaders don't try to do it all on their own. They build a team that complements their strengths and their weaknesses.
MG: I read an article recently about leadership and the ability to be "agile" and embrace change. How do you look at these traits within leaders at Northrop Grumman?
KW: I think what companies need to be able to do is to see the world changing around them and quickly figure out how to embrace that change for the opportunity. So speed and agility are key enablers to be able to do that inside a company. The larger the company is, the more challenging that can be. You have to see what's happening through many layers of management that may buffer you from customer interactions, and to be able to create change through a large organization. But I think the most important things leaders do is assess the environment, chart a course, and then quickly get the organization to respond.
MG: At Commerce, one of our themes was 'Go Fast'. How do you view the concept of speed?
KW: We talk about the speed of relevance. If the threat environment is changing, and you have a great way to address it, but it's a year or two late, it's not relevant. Also, if you're quick to come up with a solution that doesn't quite get the job done, then that's also not relevant. It's about connecting how quickly you need to be able to innovate with what's required to operate in the environment.
MG: It seems like you went from business school to CEO at Northrop Grumman overnight. I'm exaggerating "a little". If you were standing in front of a George Washington MBA class, and they wanted to know your "trade secrets" that got you where you are today, what would you tell them?
KW: I didn't have a plan to become a CEO. It was something that evolved over time from a collection of experiences that allowed me to realize my potential. I kept taking paths that would eventually lead me there. Not because they were going to lead me to the CEO position, but because I felt like I could have a broader impact and do good for the organization. I was blessed because that eventually translated into being asked to lead such a phenomenal company.
Northrop Grumman and Maryland
MG: You and I had the opportunity to meet a little over three years ago. The State of Maryland and Northrop Grumman worked closely together on some important programs, important to both Northrop Grumman and to Maryland. Northrop Grumman is one of the largest employers in Maryland and employs nearly 13,000 people in the State. What does Northrop Grumman's investment in the community mean to you?
KW: It's very important that we support the community – to support where our people live and work. Northrop Grumman also works closely with hundreds of suppliers and spends hundreds of millions of dollars in this region. We also give back through the development of the next generation of the workforce through charitable giving and volunteerism. I'm proud to say that Northrop Grumman employees support our companywide efforts in those engagements every day. It's really a sense of corporate responsibility to be good community participants. The State of Maryland has embraced us through programs that allow us, as a corporation, to get involved in activities that make our community safer and better educated.
MG: In 2018 you closed on the Orbital ATK Acquisition. It was the largest deal Northrop Grumman had done in recent history. You've formed a new business group – Innovation Systems.
KW: It's another great example of how we added to Northrop Grumman a group of individuals who have a passion for making a difference and are committed to innovation. Four years ago, Orbital Sciences and ATK came together to form Orbital ATK. As they were celebrating that achievement, we brought them into the Northrop Grumman family. It was so meaningful for them to see their great legacy continue in a company that also prides itself on innovation. I think you also know that Orbital ATK had a significant presence in Maryland which further grew our footprint in the state.
Education and Partnering
MG: Northrop has a great history of partnering with many colleges and universities. Your partnership with UMBC and their great leader, Freeman Harbowski, has been extraordinary.
KW: When we work with colleges and universities, we are looking for a mutual benefit. There are many possible facets to our partnership. We want the students to benefit from engaging with Northrop Grumman employees, so part of it is curriculum development and supporting campus activities. Another part might be financial, ensuring the university has the resources to continue to expand research and innovation. We love the incubation we do at UMBC, helping small businesses and start-ups get their first entree to new customers. All of these things work together to create an ecosystem that attracts students to study in the fields where we have specific needs. We do all we can to help the students have a successful educational outcome, and to get their start in a company like ours, or possibly a smaller business. It all has to flow together. It has to be mutually beneficial to the university and the company, but most importantly, the student.  Freeman has been a wonderful partner, as he shares our passion for student outcomes.
MG: You're also very engaged in K through 12.
KW: We have to inspire young students, as young as fourth and fifth grade, to want to study math and science, and then to go on to get certifications or degrees that allow them to pursue a career in STEM. We want to reach a diverse population and show all students that those pathways are available for them.
MG: What does Northrop Grumman do to inspire children from lower socio-economic backgrounds to aspire to be, let's say, an engineer?
KW: We have many initiatives at Northrop Grumman working with communities and schools. Our employees have the opportunity to serve as role models.
MG: You have two great sons – the oldest will be a university freshman in the fall. Your husband is also a James Madison alum. When you're "off duty", how do you like to spend your time?
KW: We love to travel, and we like boating. We have an affinity for the bay and the eastern shore. You cross over the Chesapeake Bay Bridge and you're in a different world. We just love the people and the environment. I'm a soccer mom as well. I love to play soccer with my boys, and I also love to watch them play the sport.
Special Sauce
MG: Northrop Grumman is a great company. You've been there for eleven years and now sit in the most important seat of all. What's Northrop's "Special Sauce"?
KW: Our people and the values they exhibit every day. We care about our customer's mission deeply. If you talk to Northrop Grumman employees, they'll tell you the same thing. They find deep purpose in what they do protecting men and women who choose to serve our country. It's knowing that we have a collection of people with that shared value set that makes this place very special. There is also an innovation DNA that exists in the company. Going back to our early founders, whether you think about namesakes Jack Northrop or Leroy Grumman, or the companies that have come together to form Northrop Grumman today, our people have a vision and a passion to innovate.
MG: Last question: It's 2030. What will have changed at Northrop Grumman?
KW: Much will change in the world in which we live. Our objective at Northrop Grumman is to ensure that we provide the United States and our Allies the technology they need to thrive, protect its citizens, and defend Democracy. We will continue to focus not only on global security but also on human advancement in our rapidly evolving world.