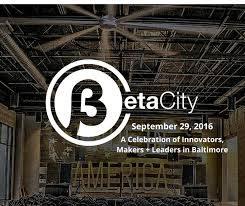 Evergreen Advisors is a proud sponsor of the 2016 Beta City Event taking place on September 29th. The event will be held at City Garage in Baltimore.
Beta City is presented by Betamore and Sagamore Ventures and is an annual event that recognizes and celebrates leaders, makers and innovators in Baltimore.  The event brings together Baltimore's greatest minds for a full day of pitches, startup demos and a celebration of the growing community. Beta City includes a Live Pitch Competition, a tour of City Garage, and a celebration of the greatest innovators in Baltimore.  An Awards Ceremony will take place honoring the winners from the Pitch Competition.
About Evergreen Advisors, LLC
Evergreen Advisors, LLC is a leading investment banking and corporate advisory firm focused on assisting emerging growth and middle-market companies in the areas of corporate finance, growth and exit strategies, business valuation and advisory services.  For more information, visit https://evergreenadvisorsllc.com/
Securities transactions conducted through Evergreen Advisors Capital/Member FINRA/SIPC.
About Betamore
Established in 2012, Betamore is an award-winning coworking space, incubator and campus for technology and entrepreneurship. Betamore was originally formed as a for-profit entity and after 2 years in operation, it became clear that changing to a non-profit (501(c)(3)) was the right direction to go in order to give Betamore the best chance to realize its full potential. In January 2015 Betamore became a 501(c)(3) by merging with the former Greater Baltimore Technology Council. For more information, visit www.betamore.com
About Sagamore Ventures
Sagamore Ventures LLC is the venture capital subsidiary of Plank Industries, the private holding company of Kevin Plank, founder and CEO of Under Armour, Inc. Sagamore Ventures is housed alongside several of its portfolio companies at City Garage. For more information, visit www.citygarage.vc