Evergreen Advisors Capital, a middle market Investment Bank is pleased to announce that it has been named a 2019 Moxie Award finalist. The Moxie Award program honors the accomplishments and achievements of growing businesses, nonprofits, and associations in the DC metro community. Organizations are recognized for having demonstrated boldness and innovation as an integral part of their growth strategy.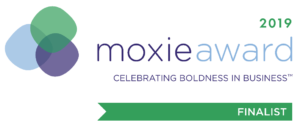 "I want to congratulate our team for being nominated as a Finalist for the 2019 Moxie Award enabling us to be recognized among the boldest and most innovative organizations in the D.C. metro community" Rick Kohr, Chief Executive Officer said. Our team has a proven track record in providing innovative and strategic solutions to meet our clients' evolving business needs and implementing winning strategies for our clients."
Finalists were recently announced by Sarah Cody, the 2019 Moxie Award executive chairwoman. "We received an unprecedented number of entries," Cody said. "We look forward to revealing the winners at the 2019 Moxie Award celebration on Nov. 5, 2019, at The Ritz-Carlton in Tysons Corner."
A complete list of finalists can be found at: https://moxieaward.com/finalists/#finalists
About Evergreen Advisors Capital
Evergreen Advisors Capital, LLC is a leading investment banking and corporate advisory firm focused on assisting emerging growth and middle-market companies in the areas of corporate finance, growth and exit strategies, valuations and advisory services. For more information, visit www.evergreenadvisorsllc.com/
Securities transactions conducted through Evergreen Advisors Capital/Member FINRA/SIPC.