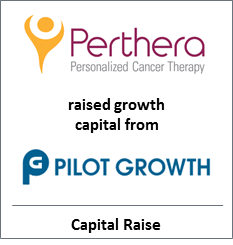 Evergreen Advisors Capital ("Evergreen"), a boutique investment bank, is pleased to announce that it served as the exclusive financial adviser to Perthera, Inc. ("Perthera"), a leading precision medicine company, in its institutional Series A financing.
Perthera is the market and technology leader in Precision Cancer Analysis ("PCA"), which provides physicians a more accurate understanding of a patient's cancer and thereby the ability to identify prospective treatment options personalized to the individual patient. At the same time, a PCA provides individuals access to a world-class actionable therapy plan wherever in the world they may be.
Andrew Mignatti, Chief Executive Officer of Perthera commented, "We are pleased to complete this funding round and accelerate our progress in changing the way cancer is treated and enabling patients, no matter where they are located, to access state of the art therapies. Joe Statter and the team at Evergreen were instrumental and relentless in helping us originate, structure and close this financing."
Joe Statter of Evergreen Advisors Capital noted, "It has been an absolute pleasure working with Andrew and the entire Perthera team to provide the company with the growth capital they need to continue their remarkable progress in the fight against cancer."
Morgan, Lewis & Bockius LLP served as legal counsel to Perthera.
Terms of the transaction were not disclosed.
About Evergreen Advisors Capital
Evergreen Advisors LLC is a leading investment banking and corporate advisory firm focused on assisting emerging growth and middle-market companies in the areas of corporate finance, growth and exit strategies, valuations and advisory services. For more information, visit https://evergreenadvisorsllc.com/
Securities transactions conducted through Evergreen Advisors Capital/Member FINRA/SIPC.
About Perthera
Perthera is the market and technology leader in developing Precision Cancer Analysis ("PCA") used to provide detailed full molecular information about cancer tumors. The PCA is a first step in the use of "precision" (sometimes called "personalized") medical treatments for cancer patients.  It is based in the Tysons Corner area of Northern Virginia.