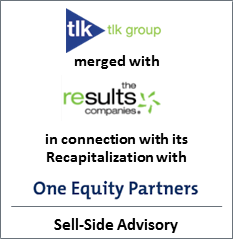 Tysons Corner, VA – Evergreen Advisors Capital (EAC), a leading middle-market investment banking and corporate advisory firm, is pleased to announce that it served as the exclusive financial advisor to TLK Group, LLC (TLK) in connection with its recapitalization with One Equity Partners (OEP) and simultaneous merger with The Results Companies (Results).
OEP is a private equity firm that invests in multiple industries including technology, media, telecom, business services, healthcare, consumer products, chemicals, and manufacturing.

Donnie Gross, CEO of TLK commented, "EAC provided outstanding advice and guidance as they led us through this transaction.  The EAC team, led by Joe Statter, enabled the TLK ownership group to obtain significant liquidity as well as upside potential through our equity interest in the combined TLK/Results entity."
Joe Statter, President and Managing Director of Evergreen Advisors Capital stated, "It is a pleasure to work with TLK again to assist them in such a meaningful outcome.  We congratulate Donnie Gross and the entire TLK team as well as their new partners, OEP and Results in creating a scaled, global leader in the customer experience management industry."
Terms of the transaction were not disclosed.
About Evergreen Advisors Capital
Evergreen Advisors Capital, LLC is a leading investment banking and corporate advisory firm focused on assisting emerging growth and middle-market companies in the areas of corporate finance, growth and exit strategies, business valuation and advisory services.  For more information, visit https://evergreenadvisorsllc.com 
Securities transactions conducted through Evergreen Advisors Capital/Member FINRA/SIPC.
About TLK Group
Headquartered in VA, TLK Group specializes in the cable telecommunications industry and provides comprehensive statistical Inbound and Outbound call data, call handling results, and thorough campaign reporting detail in a secure, multimedia environment for both B2C and B2B customers throughout the United States.  The company invests time, effort and financial capital in order to maintain the latest state-of-the-art dialer technology and advanced solutions that meet client needs.  TLK Group maintains a high supervisor-to-representative ratio in order to achieve the highest quality results for their clients, a few of which are Comcast, St. Jude's Hospital, Time Warner, and The Houston Chronicle.  For more information, visit http://www.tlkgroup.net/
About The Results Companies
The Results Companies, headquartered in Fort Lauderdale, FL, with 18 locations in the United States, Philippines and Latin America, is one of the fastest growing international providers of business process outsourcing (BPO) solutions exclusively focused on Partner Branded support worldwide.  The company provides a full range of Customer Experience Management services  through 5,600 agents via Phone, Email, Web-chat and Social Media to a client base that includes many high visibility Fortune 500 consumer brands.  For more information, visit http://www.TheResultsCompanies.com