Evergreen Advisors Capital, a middle-market investment bank, announced today that it advised G2SF, Inc. ("G2SF") on its sale to Gunnison Consulting Group, Inc. ("Gunnison").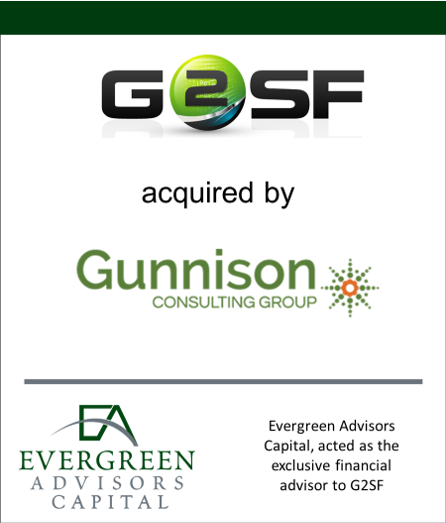 Headquartered in Reston, Virginia, G2SF INC. is a Government focused IT consultancy and enterprise solution provider with core competencies in IT Service Management (ITSM), Mobility Engineering and Management, Security Engineering and Management, and IT Engineering & Integration. Their clients are responsible for the largest IT organizations in the world, including the Defense, Intelligence, and Civilian Agencies within the U.S. Government. As a result of G2SF's involvement, their clients have realized measurable improvements in operational efficiencies, a reduction in sustainment costs, and an improvement in services.
Gunnison, headquartered in Alexandria, Virginia, is a leader in software development, data analytics, and enterprise system testing for U.S. Federal Government customers with a data-intensive focus. Gunnison has successfully implemented technology solutions for the U.S. Census Bureau, Patent & Trademark Office, and other Civilian Agencies in the government.
"G2SF established tremendous client relationships through thought leadership in IT Service Management (ITSM) and providing market-leading solutions. The combination with Gunnison is highly complementary from a customer base and a capabilities perspective, helping further position the combination for prime contract wins and future growth.", said Sam DiPaola, Head of Investment Banking, Evergreen Advisors Capital.
"The integration of G2SF and Gunnison will offer government clients access to a much broader scope of critical capabilities while maintaining niche expertise in key areas that are vital to the achievement of evolving mission objectives", said Gregory C. Smith, G2SF's Founder and CEO.
Evergreen Advisors Capital served as the exclusive financial advisor to G2SF and assisted in initiating, structuring, and negotiating the transaction on GS2F's behalf. This transaction highlights Evergreen Advisors Capital's sector expertise in advising cyber and government contracting clients and its continued success in sell-side assignments. DLA Piper served as legal counsel to G2SF. Terms of the transaction were not disclosed.
_________________________________________________________
About Evergreen Advisors
Evergreen Advisors LLC is a leading investment banking and corporate finance firm focused on assisting and advising emerging growth and middle-market companies in the areas of corporate finance, growth and exit strategies, valuations, and advisory services. Securities transactions conducted through Evergreen Advisors Capital/Member FINRA/SIPC. For more information, visit https://evergreenadvisorsllc.com/
About G2SF
Headquartered in Reston, Virginia, G2SF is an Enterprise IT Solution Provider with expertise in Mobility, Engineering, Cyber Security and IT Service Management (ITSM). As a pioneer in the implementation of enterprise ITSM solutions within the U.S. Federal Government, G2SF successfully leverages proven technologies using industry best practices that help its clients improve performance, achieve mission objectives, and create measurable value for their stakeholders. G2SF's clients are responsible for the largest IT organizations in the world including the Defense, Intelligence, and Civilian Agencies within the U.S. Government. For more information, visit https://g2sf.com/
About Gunnison Consulting Group
Serving the greater DC metro area since 1994, Gunnison provides exceptionally qualified professionals to assist Customers in tackling their most ambitious projects in support of critical missions. Gunnison's customers consist of some of the most data-intensive agencies of the federal government, and as a result, the Company has developed unique expertise in the areas of data analytics, survey engineering solutions, agile system design and development, and automated testing. For more information, visit https://gunnisonconsulting.com/