Evergreen Advisors, LLC Chief Operating Officer and Ellicott City resident one of 52 selected for professional development program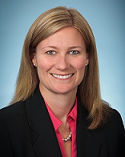 Leadership Maryland announced this week that Shelley Lombardo, MBA '17, Chief Operating Officer at Evergreen Advisors, LLC, has been chosen to participate in the professional development program dedicated to building a better Maryland by harnessing the strength of its local business and community leaders. Lombardo is one of 52 individuals chosen for Leadership Maryland's 25th class – the Class of 2017, who will complete the eight-month hands-on learning program focused on the state's most vital social, economic and environmental issues.
Following a two-day opening retreat in April, the class will attend five two-day intense sessions traversing the state focusing on Maryland's

economic development, education, health and human services, criminal justice, the environment, and multi-culturalism/diversity. These sessions will be followed by a one-day closing retreat in November and a graduation celebration in December. More than 100 experts representing business, government, education, and the non-profit community will serve as panelists and guest speakers.
"The selection process for the Class of 2017 was very competitive this year, as we had an extraordinary pool of diverse and experienced applicants to choose from," said Renée M. Winsky '05, president and Chief Executive Officer, Leadership Maryland. "The 52 selected participants represent a diverse and broad spectrum of highly-qualified executives from across the state, and we are confident that their Leadership Maryland experience will help them to play an even greater role in our unified effort to shape the future of our state."
Leadership Maryland is open to senior-level executives with significant achievements in either their careers and/or their communities. Ideal Leadership Maryland members have a desire to learn more about Maryland's most critical issues and a personal commitment to be a force for positive change in their organizations, their communities, and their state. For more information about Leadership Maryland, please visit www.LeadershipMD.org, call 410-841-2101 or email Info@LeadershipMD.org.
Leadership Maryland Class of 2017 Participants:
Brandon S. Butler, Esq.
Deputy Assistant Secretary – Division of Workforce Development and Adult Learning
Maryland Department of Labor, Licensing and Regulation
Brenda Cachuela, CPA, CRMA, CIA
Director, Office of Audits
Maryland Department of Transportation
Deborah A. "Debbie" Carpenter, AICP
Director of Planning and Land Management
Garrett County
Bernard A. "Andy" Cheezum, Jr., CHC
Vice President/Owner
Willow Construction, LLC
Michael E. "Mike" Cox, Jr.
Lecturer/Section Manager
University of Maryland Fire and Rescue Institute
Gregan Crawford
Vice President of Strategic Initiatives
Garrett County Community Action Committee
James E. Deriu
Vice President of Natural Resources Management
KCI Technologies, Inc.
John D. Diehl, MBA
Vice President
Southway Builders, Inc.
John T. Dumas, MBA
Executive Director
Service Coordination, Inc.
Diana Ellis, MBA
Vice President of Advancement
Humanim, Inc.
Loren N. Farquhar
Director, Marketing and Communications
Anne Arundel Medical Center
Rebecca J. "Becky" Frank
Vice President of Development and Marketing
Chase Brexton Health Care
Dustin W. Freas, H.M.S., NHA
Chief Development Officer
Flagship Rehabilitation
John Genakos
Associate Director for Development and Information Technology
MEDCO
Charles Glass, Ph.D.
Assistant Secretary for Transporation Policy Analysis and Planning
Maryland Department of Transportation
Rajiv K. "Raj" Goel, Esq.
Principal
Offit Kurman, P.A.
Heather M. Gramm
Assistant Director
Frederick County Office of Economic Development (*beginning February 27, 2017)
Amy M. Gross
Executive Director
France-Merrick Foundation
Jennifer J. Hammaker
Director, Maryland Innovation Initiative
Maryland Technology Development Corp. (TEDCO)
Brian W. Hammock, Esq.
Resident Vice President
CSX Transporation, Inc.
Husher L. Harris II
Vice President
Avaris Concepts, LLC
Chris D. Hoyson
Division Vice President
The Whiting-Turner Contracting Company
Lucille "Lucie" Hughes
Vice President for Institutional Advancement
Chesapeake College
Mary Elizabeth "MaryBeth" Hyland
Founder and Chief Visionary
SparkVision
Mary Frances Isakov
Administrative Vice President and Group Manager
M&T Bank
Martha Lessman Katz, Esq.
Attorney at Law
Lessman Katz Law
Traci L. Kodeck
CEO
HealthCare Access Maryland
Jonathan M. "Jon" Kucskar, Esq.
Senior Commission Advisor
Maryland Public Service Commission
Shannon C. Landwehr
President and CEO
Economic Alliance of Greater Baltimore
Stephanie C. Lansey-Delgado
Lieutenant
Baltimore City Police Department
Jennifer B. Litchman
Chief Communications Officer and Vice President; Special Assistant to the President
University of Maryland Baltimore
Shelley Jarrad Lombardo, MBA
Chief Operating Officer
Evergreen Advisors, LLC
James G. Lunnermon, II
Director of Alumni Development
University of Maryland-Eastern Shore
Julie Madden
Arts Advocate
Shanak K. "Shan" Maitra, Ph.D., LEED AP
President
Artiam Solutions
Roy C. McGrath
Director/CEO of Maryland Environmental Service
State of Maryland
Meredith M. "Merry" Mears
Director of Economic Development
Worcester County
Wanda K. Oneferu-Bey
Executive Vice President, Consumer Direct Business
CareFirst BlueCross BlueShield
Barbara J. "Julie" Paluda, MBA
Capital Projects Analyst
Calvert County
Signe J. Pringle
Managing Director-Office of International Investment and Trade
Maryland Department of Commerce
John W. Renner, Jr.
Senior Development Director
Cross Street Partners
Hon. James H. "Jimmy" Rhee
Special Secretary – Governor's Office of Minority Affairs
State of Maryland
Karyn A. Riley, Esq.
Director of Intergovernmental Relations
Washington Suburban Sanitary Commission
John E. Rodenhausen
Maryland Director of Major Giving
Chesapeake Bay Foundation
Christine A. Ross, CCE, MBA, MS
President and CEO
Maryland Chamber of Commerce
Andrew Sargent
Senior Business Development Representative, Western Region
Maryland Department of Commerce
Deborah E. "Deb" Sharpless, CPA
Deputy Executive Director – Maryland Transit Authority
Maryland Department of Transportation
Jody J. Sprinkle
Principal Policy Analyst – Maryland General Assembly
State of Maryland
Joy A. Strand
Chief Executive Officer
McCready Health
Barbara K. Wagner
Leadership Frederick Program and External Events Coordinator
Frederick County Chamber of Commerce
Chad H. Ward
Chief Executive Officer
Railey Mountain Lake Vacations
Nico Washington, MBA
Associate Provost for Financial Management
University of Maryland-Baltimore County
About Leadership Maryland
Leadership Maryland is a professional development program dedicated to building a better Maryland by harnessing the strength of its local business and community leaders. Each year, as many as 52 diverse and accomplished executives from Maryland's public and private sectors are selected to come together as a class for an eight-month hands-on learning program focused on the state's most vital social, economic and environmental issues. The first Leadership Maryland class graduated in 1993, and the organization's alumni network now consists of more than 1,100 leaders from all industries and regions of the state. To learn more, please call Leadership Maryland at 410-841-2101 or visit www.LeadershipMD.org.
About Evergreen Advisors
Evergreen Advisors is a leading investment banking and corporate advisory firm focused on assisting emerging growth and middle-market companies in the areas of corporate finance, growth and exit strategies, business valuation and advisory services.  For more information, visit https://evergreenadvisorsllc.com/
Securities transactions conducted through Evergreen Advisors Capital, Member FINRA/SIPC.