Perfect Family, Change Maryland, "Irish", "Live Life Like You Were Dying"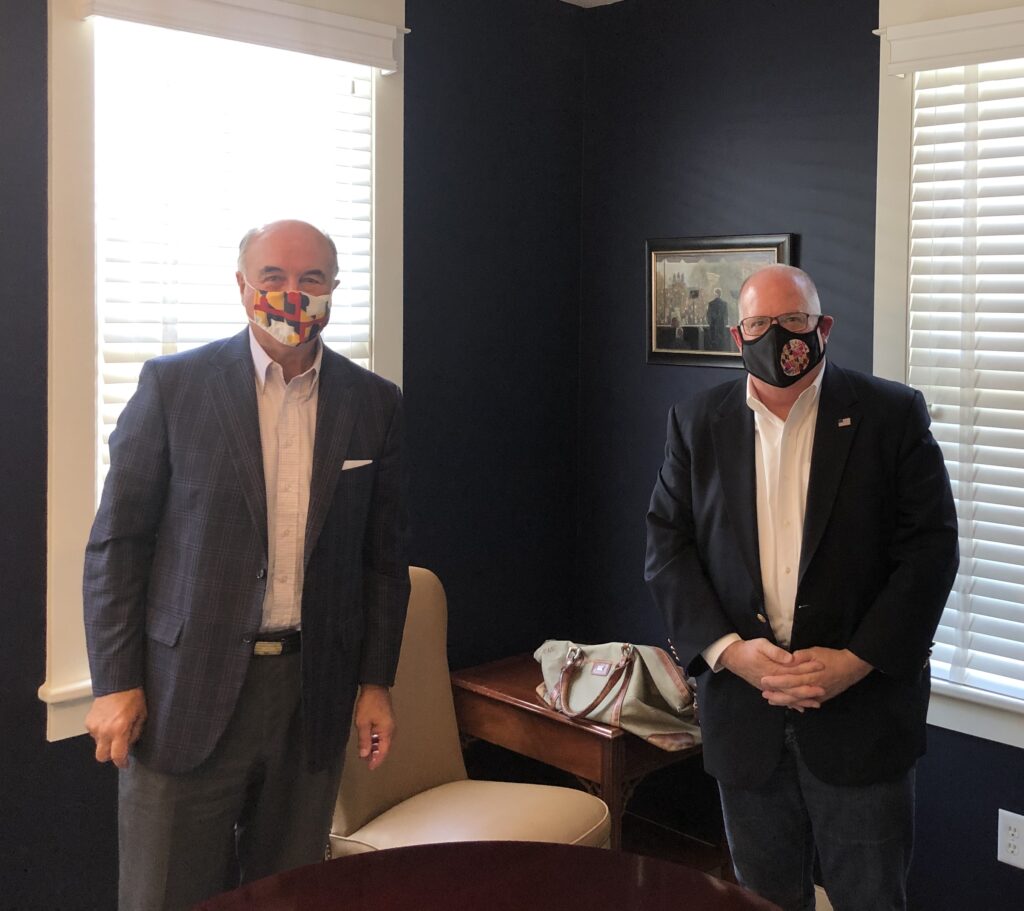 This coming November, it will be six years since Larry Hogan "shocked" the political world and became Governor of Maryland. It wasn't long after that we met at his transition office, and he said to me, "Mike, I have twenty-three cabinet positions to fill, I want to get all of them right, no mulligans." I really need to get economic development right. I ran on "Change Maryland," and this is our opportunity to get Maryland heading in a better direction." I said YES, and for the next four years, working closely with the "Gov," we accomplished things no one thought Maryland was capable of achieving. I recently sat down with my friend and over an hour, covered "a lot of territory." I hope you enjoy the interview. If there were an expression that would fit the Gov perfectly, it might be, "Take your work seriously, but not yourself."
Gov, thanks for the memories
Mike
---
MG: Still Standing. Why did you decide to write a book at this time in your life, your political career?
GOV: That's one of the funny things about Still Standing. I didn't know anything about writing a book, but it takes a long time, and I wrote most of it last year. Right after I got elected, people would say to me, "that was the biggest upset in the country, how could you pull that off?" and the political junkies said, "you should write a book about that." I said, "I haven't accomplished anything; I'm not going to write a book." Then we had the riots, and right after that, my cancer diagnosis, people kept saying, "You need to write a book." It was after I got re-elected, I decided to do it. I turned it into the publisher on February 1st, before the pandemic, and it was scheduled to come out on June 1st. There was a book tour planned; the pandemic was accelerating; we were in a state of emergency. I said, "I can't have the book come out now." The publisher said they would only delay it until July 28th, so I added the additional chapter about the pandemic. So I didn't say, "Hey, it's the middle of a pandemic; let me write a book."
A Perfect Family…Until It Wasn't
MG: Landover Hills. A kid. Perfect family, Ozzy and Harriet, sidewalks, riding your bike, ice cream truck. And then your dad grabbed you and your sister and said something to you that would change your life. What did he tell you?
GOV: I really thought we had the perfect life, I loved my parents, and we did have the perfect middle-class family growing up. It was actually Landover Knolls, a poor suburb of Landover Hills, but it was a nice neighborhood. I had lots of friends and was really happy. It was the summer after my sophomore year of high school.
I was out back, shooting hoops, and my dad came out and said, "I'm going to leave your mom." It was obviously a tough thing to go through. I tried to be a grown-up and be the tough guy, but my whole world was turned upside down, and I ended up moving to Florida with my mom and left all of my buddies behind, but I didn't turn out so bad.
MG: You ended up in Florida, went to Florida State. While you were there, the legendary Bobby Bowden became the head coach. Did you have a great experience at Florida State?
GOV: I really did.
I know it's not like the Clemson experience Mike, but it was great for me. At the time, we didn't have much money, and my mom was working hard, and if you graduated from high school in Florida, you got free tuition at the state universities. I picked Florida State because they had a good government program, and Tallahassee is the state capital. I ended up going there at the same time Bobby Bowden came in from West Virginia. He started to turn the program around right away, so it really dates me. I'm a lifelong Seminoles football fan even though it's hard to be one nowadays. I can't give you a hard time anymore about the Tigers.
MG: Do you think that FSU alums are saying, "you know the two biggest things that happened in the '70s were Bobby Bowden became our head coach and Governor Hogan was here as a student,"?
GOV: I'm sure they didn't say that, but Ted Bundy was the big thing that happened then. It was Bobby Bowden and Ted Bundy.
MG: 1974, You were in high school, your dad was in Congress, the Nixon impeachment hearings were taking place. What are your strongest memories from that time?
GOV: My mom and I moved to Florida, but I stayed in touch with my dad, who was in Washington and part of the House Judiciary Committee. He was a big supporter of Nixon's during the campaign. He thought Nixon was a good president, but when he saw all of the evidence, he had a tough choice to make. I remember in high school my dad was telling me, "This is going to be a difficult decision, it's probably going to ruin my political career, and I'm going to have a lot of people mad at me, but I really believe the president is guilty of impeachable offenses." He said, "No man is above the law, even the president of the United States," and he made that decision. Most of my friends in Florida didn't even know who my dad was, but they saw his name on the front page of the Daytona paper, and there was this guy calling for Nixon's impeachment. At the time, it was a terrible thing to support, but it's the thing he's most remembered for and the thing I'm most proud of. He did what he felt was right for the country, and I learned a lot about integrity and public service.
Starting a Career…… And The S&L Crisis
MG: What year did you get into the real estate business?
GOV: I took the real estate course and got my license right after college in 1978. I left county government in 1982 and moved to real estate full time.
MG: You had great success almost right away. You were single, living the dream, making money, and then suddenly, the S&L crisis occurs. In your book, you talked about doing everything you could to keep your company alive, but eventually, the bank left you with no options other than bankruptcy.
GOV: It was a terrible time. It was in the early '90s when the S&L crisis happened, and the land development businesses, in particular, was devastated. Congress clamped down on the S&Ls. There was a bill called FIRREA where they came in and stopped all lending. Many of the S&Ls collapsed, and many of my clients went bankrupt, and we struggled through it and lost everything. It was a very difficult thing to go through; it was devastating. I say in the book I'll never forget it, and I'd never want to go through it again, but it made me stronger. I was a young guy in my 30's, started the company in the basement of my townhome, built a good size company, making money, then I lost it all. I had to start all over again, but I did it, and we built a second great company.
MG: It was such a test for you. Did you know that you could deal with it?
GOV: It still sticks with me today. I was so proud of our success, we had many good clients, and people looked up to me for what we had accomplished, and were counting on me. And then it was over. You have to stop and think, 'what are you?' when everything that you've worked for is gone.
You have to really dig deep. It was a lot harder the second time than it was the first time to climb back up again.
An Art Show… …and Finding a "Family"
MG: It's the latter part of the '90s, still a confirmed bachelor. Were your mom and dad like, "Larry, please, why don't you find a nice girl?" Your sister Terry did have two children.
GOV: My dad was getting a little impatient; my mom was fine. She was like, "you know, he's having fun." By then, I had two nephews and a niece, and my mom loved her grandkids, so she wasn't really pressing me, but my dad kept saying, "you've got to settle down."
MG: So you go to an art show, and you meet this beautiful Korean woman named Yumi Kim. What were you doing at an art show?
GOV: That's a lot of people's first question! I got dragged out to this art show with a friend, and I was just tagging along. I wasn't that interested in the art, but it was an opportunity to get out into the community, and I was half-heartedly attending. Then I said, well maybe I'll check out some of this art for an office building or something, and I ended up meeting this woman. I was more interested in the artist than the art.
MG: Did you buy any of her work, maybe overpaid intentionally?
GOV: No, I was pretty cheap then too.
MG: Roll the tape forward, Yumi Kim becomes Mrs. Larry Hogan, and you ended up with "instant family."
Was the adjustment difficult?
GOV: No, it was actually wonderful. All three of the girls are just terrific. I couldn't love them anymore. It was perfect because my wife, and I'm so proud of her for this, she came to this country not speaking any English and not having any context, she raised three daughters entirely on her own. Working full-time jobs and taking care of three girls, they had spent most of their life without a dad. Even though they were older, they really were craving that father figure. There was no father involved, so they were looking for a dad, and I had put off getting married for so long. I was in my early 40's and what felt like overnight, have the family I never had, and they have the dad they never had, and it was as if we were together the whole time.
MG: Did you really go buy the book "How to be a Great Dad for Dummies"?
GOV: I should have, but no. At my wedding, I made a toast, because I'm an emotional Irish guy, I said, "Not only do I get this incredible woman to be my wife, but I have these three beautiful, incredible daughters." I got a package deal; I got four great girls on the same day.
MG: The thing I noticed reading the book is that things tend to happen in batches for you, good and bad. And something very sad did happen soon after you married Yumi when your mom died suddenly.
You were close to your mom, what was she like?
GOV: My mom was the best. I talked about when my parents got divorced, and I had a tough decision of whether to go with my mom or my dad. I loved them both, but my mom was really the loving and caring one. I admired my dad for so many things, but she was the perfect mom. She loved my sister and me, and it was a shock for us because she was a big supporter of mine, and you couldn't ask for a more wonderful mother. She was only 72 when she died, and in perfectly good health, that was the surprising thing. It was good that she never suffered going into the hospital with one of these terrible illnesses that ravage people. She was happy; she was enjoying the day with the grandkids, went to lunch with a friend, then came home and died in her sleep. It was a shock because we weren't ready, but the sad part was Yumi, and the girls were about to go down to Florida to meet her, and they never got the chance.
MG: They didn't get to meet your mom?
GOV: No, we had just started dating. I went down and told my mom that I'd met this incredible woman, and I can't wait for you to meet her. Yumi sent a little gift down with me. My middle daughter Jamie had a daughter, our granddaughter, and she named her after my mother, Nora.
MG: Things come in packages for you. Our friend, Bob Erlich, runs for governor and wins and says, "Hey, I want you to be part of my team." You were the Appointments Secretary, which is when you and I first met, when Bob had appointed me to the Board of Regents. Did you have fun? Did you like the job?
GOV: It was a lot of work, and it was fun, and I enjoyed it, but I left my business to go do it.
But I learned a lot about state government. It was a financial hardship, as you know, it's a commitment to public service like you did when you joined my team. I really did enjoy it.
Change Maryland…… "Hogan Elected Governor"
MG: In 2011, you went back to the real estate business. And then you had this brainstorm of an idea to start something called "Change Maryland." How did that come about?
GOV: I went on the board of the Maryland Public Policy Institute. Jim Brady, Tom Kelso, Blackie Bowen, and a couple of guys like that were on the board. It was a think tank. It was talking about all of the problems in Maryland. They put together these wonderful papers on how we were going to fix the problems with the state, but no one would ever read them. They were hundreds of pages or more. I told them, "we've got to talk in a way that reaches the average voter." I'm pretty good with communications, so I started this non-partisan group called Change Maryland. It started on Facebook. It was me typing on Facebook; I came up with a logo, stuck it on there, and with a few friends and no money, it grew and grew until I had a couple hundred-thousand people who wanted to change Maryland. Democrats, Independents, and Republicans. There were a lot of people frustrated with the direction of the state, and they wanted to see something happen. They didn't think a Republican could get elected Governor, but they were agreeing with us on the message.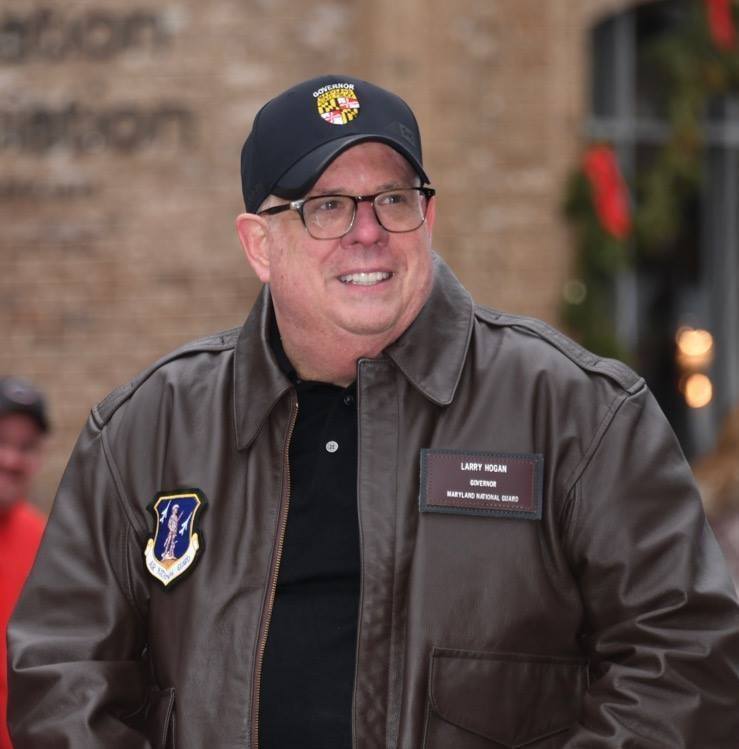 MG: Often, at events, I would hear you say, "I didn't start Change Maryland with the idea that I was going to run for Governor, but I couldn't find another sucker to do it."
GOV: That's true. We started this years before the 2014 election, and it was just business people and average citizens who were fed up with forty-three taxes in a row, killing all the jobs, and I was like, I don't think anybody can win, and I don't really want to run. But eventually, we said, "you can't change Maryland without changing Governors."
MG: It was early in 2015 when Political Reporter Len Lazarick wrote, "All you had to do was beat a younger, leaner Democrat with two Harvard degrees, 30 years of military service, 16 years as an elected official, 5 times more money, the entire Democratic establishment supported him, two-term Governor who was going to run for President."
When you finally did decide to run, and you have said many times, you had a better chance of beating cancer than winning the governor's race. What was the "ah-ha" moment once you started running?
GOV: I don't remember that, but that was a pretty good description that Len had. It wasn't impossible, but I had best friends, family members, and long-time clients of mine telling me, "look, Larry, we agree with you, and some of the stuff you're saying makes perfect sense, and maybe you wouldn't make a bad Governor, but you have no way to win, you're crazy!" They just never thought there was any chance.
I knew it was a huge uphill battle with no money in an overwhelmingly Democratic state, but I wouldn't have taken a year off of my business if I didn't think there was a chance. But it was a long shot; many called it "no shot."
I just kept working hard. After the primaries, we were down eighteen points. Even in the week before the election, they said there was a 94% chance of me losing by nine to twelve points. But the 'ah-ha' moment began to gradually build. I started to say, well, maybe there is a chance. Maybe people are catching on to our message. It seemed like an awful lot of people were coming up to me saying "go get 'em" or "we're fed up with both Democrats and Republicans."
The ah-ha moment was at the Dundalk 4th of July parade. I ran that parade route up and down both sides of the road and shook hands all day long, sweated off a few pounds. I would round the corner with our little campaign bus, and thousands of people would stand up, cheering, and I was like, "man." I crashed on the bus at the end, guzzling a bottle of water and said to myself, "you are going to win this race." Nobody else believed me, but I knew on the 4th of July that we were going to win. Nobody else believed it until the day after the election or that election night when it actually happened.
MG: Election night, I was there with my son Mike, Jr., your dad was there, and there was that moment when you knew you were going to be Maryland's next Governor. Your dad was at your side. Describe the moment.
GOV: My dad was getting up in age and had become a little hard of hearing. He was sitting in front of the TV, trying to hear what was being said, and people were talking, and he was yelling, "shut up, I'm trying to listen!" I came over to try to get his attention. My dad had run for Governor unsuccessfully in 1974. He lost the primary when he was on that House Judiciary Committee and came out against Nixon. Election night, I went up to my dad and said, "It may have taken us 40 years, but we're finally gonna have a Larry Hogan in the Governor's mansion."
He just stopped for a second, and he didn't really know what to say, and tears came rolling down both sides of his face. I was proud of my dad my whole life, but that was the moment where my dad was finally proud of me. I get choked up thinking about it. He was really proud of me.
MG: January 21st, 2015, you're sworn in as Governor. We're both on the state's payroll.
GOV: I finally got you an honest job!
MG: I came up for air four years later! On February 12th, the Augustine Commission Report was released. One of the things it highlighted was how business unfriendly Maryland was. In all the polls, Maryland always ranked near the bottom in overall economic climate for business. Maryland, Open for Business!, became the battle cry. Why did you think you could turn things around?
GOV: You were a huge part of it, Mike. During the campaign and going back to 2011, I constantly talked about Change Maryland. We had a big Change Maryland breakfast and had sold out the Westin in Annapolis before I ran for Governor. We had a packed room of people talking about how to turn the state around.
The same day at a press conference, the leaders in Annapolis, Mike Miller, and the late Mike Busch were trying to counteract our Change Maryland by forming the Augustine Commission and saying, we care about making Maryland better too. And then the Augustine Commission parroted what Change Maryland had been saying for four years. They made recommendations to the state, some of which were implemented, but none of the tax changes the Augustine Commission recommended. Our focus from day one was to make Maryland Open for Business; to change the perception, and you were a huge part of that, and it's one of the reasons I was so excited to have you leading the charge as Commerce Secretary. Your enthusiasm as a great salesman for the state could convince people that the state was going to be good for business. They had to believe in staying and growing their businesses in Maryland before it could actually happen. People started to buy in, and it helped us create more business than ever before in the history of the state and more jobs than ever before. We went from an overall economic performance of 49 out of 50 states to the top ten best turn around in America.
Freddie Gray
MG: April 12th, less than 90 days after you started as Governor in 2015, Freddie Gray was arrested, placed in a police van, and taken to shock trauma.
One week later, he died, and less than one week after that, we had the first signs of trouble in Baltimore. Do you remember the moment when you and your team said, "we can have some serious problems in Baltimore"?
GOV: We were prepared well in advance. I just had a feeling, I could sense the emotions, how raw they were, so as soon as Freddie Gray died, I called our team together and said we have to be ready. We put the Maryland Emergency Management Agency on high alert and informed our security team, our State Police, our National Guard, to be ready. I don't know what made me feel that way, but I could sense something might be bubbling up.
And then when I saw on Saturday night, I don't remember the exact date, violence began to break out, and there was a disturbance at the Orioles game. We then got word that a police car had been lit on fire. I sent Keiffer Mitchell to attach himself to the Mayor. I called the National Guard and prepared for a state of emergency, canceled leave for State Police, all of that a couple of days in advance of the Monday riots. Everything was teed up and ready starting the week before and then launched into high gear on Saturday.
MG: Your instincts were saying, "Something doesn't feel right," and as you've often said, there was no baby Governor's school that was going to show you how to handle this.
GOV: They don't teach you what to do at baby Governor's school when your largest city is on fire.
Although now they do because I teach the course at the National Association of Governors.
MG: In your book, you talked about getting a call from President Obama.
GOV: I had just declared a state of emergency at a press conference in Reisterstown at the headquarters of MEMA, and was driving into the city with lights and sirens on going 90 miles an hour when my state detail leader says, "The White House is on the phone." He hands me the phone, and it's President Obama. He said he said he had seen my press conference on CNN and understood I was calling in the National Guard. The President wanted to advise me not to inflame the situation in Baltimore and raise tensions. He was pretty polite about it, but he was trying to tell me that he was concerned about me going into the city. I was respectful of the president; I said, "Thank you for your concern. I appreciate you calling, but I can assure you that I have no intention of escalating tension, just the opposite. I want to keep the people of Baltimore safe, and I want to stop the violence.
MG: There was a light moment you talked about in your book when you wanted to go down to the streets with your executive protection team. They told you that it wasn't really a great idea, and you said, "well, we're going." I know Keiffer Mitchell was with you.
GOV: I thought it was important to go into the city and let people know that we cared. We went there that night, and the next morning I went to the streets and started hugging people that had their homes burned down and their businesses destroyed. Then I went to the Avenue Market, and there were a couple of guys, pretty rough-looking characters, and Keiffer leans over to me and says, "they're gang members." They weren't the friendliest crowd at first and were giving me a lot of attitude, and state troopers didn't want me to go over and talk to them. I went over and talked to them anyway. The conversation started out pretty hostile, but at the end of the conversation, after listening to them, I said, "Look, I hear what you're saying, but this violence isn't helping anyone, and you've got to help us stop the burning and the looting. It's not helping the lady down the street, it's not helping the guy who owns the business on the corner, and it's not helping you solve any of these problems you're complaining about." At the end of the conversation, the guys were like, "I hear you Gov, I hear you, I feel you," and then they wanted selfies with me. It turned out pretty good.
Cancer
MG: Less than sixty days after the riots in Baltimore, you returned from a trade mission to Asia, and your life was about ready to change.
GOV: I was on my first trade mission after the riots, and on the last day, I was shaving, and I felt this lump on my throat, it didn't hurt, but I knew it wasn't normal. I came home, went to see my doctor, and had tests done. I'm sitting in a room waiting to get the results when three doctors walk in and tell me I have cancer all over my body.
MG: What was your first thought?
GOV: I didn't have any idea that I was that sick. As soon as I heard the news, my first thought was, 'how do I tell my family?' It was Father's Day weekend when I got the diagnosis, and my daughters and sons-in-law and my dad were coming over for the weekend. But first I went home and told Yumi. We sat down in the mancave, my little TV room down in the basement, and I told her. It was a difficult conversation, but she was very supportive.
MG: Was she like, "We're gonna get through this"?
GOV: At first, she was shocked. She said, "I thought they said it was going to be nothing, that it was going to be okay?" I said, "I know, but now they're telling me it's advancing, that it's an aggressive cancer." Unlike me, she doesn't get very emotional, but she started crying. She said, "We've got to pray. God's gonna get us through this."
MG: Were you scared?
GOV: You know, it sounds funny to say this, but I wasn't scared. I wanted to be strong first for my family, then my staff and the cabinet, and the six million people in the state who had just elected me.
And I was just so focused on the treatment and getting healthy that I never got scared. A while later, it finally caught up with me late at night lying in the hospital bed when all of these people were sending me notes and letters and praying for me, and then it sunk in that maybe this was pretty serious.
At first, I wasn't scared; I was focused on what's my plan, how am I gonna beat this thing? How am I going to make the people I care about feel? I was worried more about how they felt more than being scared about dying.
MG: You had excellent medical care.
GOV: It was unbelievable. I had a great doctor here in Anne Arundel County, and they referred me to Aaron Rappaport at UMMC. We were going to have appointments at UMMC and Hopkins, but I never made it to Hopkins because after I met Aaron Rappaport, I said, "this is the guy who's gonna take care of me."
MG: You had to have a bone marrow biopsy and full anesthesia. and the doctors are saying you can't make any major decisions, and you say to them, "Well, I am having a press conference this afternoon." I was at that press conference. Tell the story
GOV: I told my family that weekend that I needed to tell the public about my cancer because I wanted to be transparent because I was going to start chemo that Friday. So that Monday, I wanted to tell everyone before it leaked. I'm in Anne Arundel Hospital, and the nurse is prepping me for surgery to remove a lymph node from underneath my arm. She's reading me this stuff saying, "We're going to put you under full anesthesia, then when you come out of surgery we're going to give you a Percocet or a Vicodin, and you're going to be pretty loopy. We just want you to rest for the remainder of the day and don't make any major decisions, don't drive or operate any heavy machinery." I said, "well, the troopers won't let me drive, and I'm not gonna operate a backhoe, but I am going to have a press conference this afternoon." She goes, "oh my God, you can't have a press conference!" I said, "Well, I am going to do one, possibly at 2 pm," and she says, "No, you can't possibly do that!" I said, "I know, but I can't wait to tell all the people."
She runs out of the room and goes into the operating room, and the surgeon comes out with his mask and gloves on and says, "My nurse tells me you're trying to have a press conference this afternoon. You can't have a press conference this afternoon!" So I explained it to him, "No, I really have to," and he says, "They're not going to ask you questions at this press conference, are they?" I said, "Yes, doc, I'm pretty sure they're gonna ask me a lot of questions!" So I did it anyway, and it was like truth serum. I went out and told them just like I was telling my whole life story!
I'll answer anything!
MG: Not long after that, there was a benefit concert for the University of Maryland Children's Hospital at the Meyerhoff, and the entertainer was Tim McGraw. Describe the evening and the special connection that took place.
GOV: I'm a country music guy, and Tim McGraw is a great performer. He has a song 'Live Life Like You Were Dying.' It's about making the most out of every day that you have left, and the words spoke to me, so it became my theme song during my cancer battle.
I actually printed the lyrics out and had them sitting on my desk and listened to it on my iPad. Just by chance, he was the performer at the benefits concert for the children's hospital at the University of Maryland, where I was being treated. They invited me to meet him and to introduce him on stage, so I went backstage beforehand and was really sick. It was towards the end of my treatment, but I wanted to meet him. So I went backstage, and I said, "It's such an honor to meet you, and I wanted to tell you that your song really inspired me." He said, "You know, it's not my biggest hit, but a lot of people tell me how that song really touches them. You can really reach people with music. Every time I sing this song, I think about my dad, Tug McGraw, who died of brain cancer." He said thank you, and we took pictures with kids, then I went up on stage and introduced him. It was a great concert; he came out for an encore and a second encore, and for the very last song of the night, he pointed up at me and said, "this song goes out to the Governor. He's a good man, and he's fighting a health battle." Then he sang 'Live Life Like You Were Dying.'
MG: The Irish came out again.
GOV: People in the audience were singing along with him, and he's looking up at me and singing the song, and the tears were rolling down my face. The Irish came out. And then he gave me his guitar at the end. His manager came up to me and said, "Tim wanted you to have this," and handed me a guitar at the end of the concert as I was leaving. It said, 'To the Gov, live life like you're dying.'
The Pandemic
MG: The Lord probably thought it was about time that the Governor faces another test. First with Freddie Gray and the crisis in Baltimore and then cancer. So now all of a sudden, COVID-19 arrives in our country. What was your first indication that this could be serious?
GOV: I was actually paying more attention to it than the average person, and I'm really not sure why. We had been doing these tabletop exercises with our emergency management folks for five and a half years on the potential of some type of an outbreak. We went through a couple of other scares with SARS and a few other things that we never quite got hit with like we thought we might. But it was always more like an academic exercise, 'what if.' Maybe because of my wife's family in Korea, I was watching the news about what was happening in Asia back in January. I was chair of the National Governor's Association at the time and when we had all the Governors come to Washington the first week in February. I had the top experts in Washington come and address us because it was just a week after the outbreak in Washington State of the first cases, and there was a two hour special on TV about the nursing homes and how every nursing home in the country had problems. That was the first one where they were carrying bodies out of this nursing home. We were shocked.
I pulled a team together to get ready for what might come, and we were geared up and ready long before our first cases. Collin and I were on a plane on our way to Sarasota for the Orioles training camp when we got word of our first cases, and we turned around and headed back to Maryland.
MG: What has made the COVID-19 pandemic different from the two other major crises you've had to deal with?
GOV: It's so much different. With Freddie Gray, it was a big challenge, but we addressed it quickly, and it lasted a week. It was a very intense period, working twenty-hour days and stopping the violence. No one was killed, and we were able to get the city back on track pretty quickly. My cancer fight was a long eighteen-month battle for me personally, but it was only me.
With COVID-19, I had to worry about the safety of all the people in our state. This kept me awake at night way more than my own health concerns. We've already lost more people in Maryland than during 9/11. We've lost more people in the country than the Vietnam War, the Korean War, and the Iraq War together. This is like a major emergency, a giant hurricane, or another disaster, but it comes every day for over five months and doesn't go away. It's an ongoing crisis with the economic pain, the worst economic collapse since the great depression, combined with over 180,000 people dying.
MG: I met Dr. Robert Redfield not long ago, the head of the CDC. I told him about having had the opportunity to work for you, and he said, "Mike, I want you to know that of all fifty states, Governor Hogan has done as good of a job as any of the Governors in the United States in managing COVID-19. It's September; where do you feel we are in our fight against COVID-19?
GOV: First of all, that means a lot to me. Dr. Redfield is a great leader at the federal level, and he and Fauci were at the meeting in February, where I brought them in to talk to the Governors. I was not only focused here in Maryland, but I was also leading the rest of the Governors across the country, so I got a chance to work with those folks at the federal level. We're not ready to put the victory flag up or say, "Mission accomplished" we're still intensely vigilant, it's not behind us, and we're continuing to see outbreaks and spikes around the country. In Maryland, we're in really good shape as we sit here today. This week we had record low numbers since the beginning of the pandemic. The people in the state have really been cooperating in following the CDC guidance.
Some of my colleagues, whom I have talked to across the country, are having terrible problems with positivity rates four or five times higher than us. In twenty-one states, they've had to re-shut down their economies. We've got everything open with the exception of sporting venues and large concert halls. 98% of our economy is able to open, though many aren't yet feeling safe and willing to go spend money again. We opened safely; our health numbers are low, we just hit a 3.5% positivity rate whereas some states are in the '20s, and on the Maryland economy, while we've had tremendous pain and unemployment, we were at 3% before this started, we're at 8% which is more than 30% better than the country; better than most states in the nation and by far the best in the region. We do have economic difficulties, but we've managed as best we can to balance health concerns and the economy.
Rapid Fire
MG: I'm calling this the rapid-fire. They're going to make a movie on your life story. Who is going to play you?
GOV: Bruce Willis.
He's got a bald head, and he's kind of a tough guy (laughter from the Gov).
MG: What's a perfect weekend? You probably haven't had one of those in a while, but what does it look like if you could have one?
GOV: It sounds silly, but just relaxing around the house with the family, grandkids, and just having a good time and maybe enjoying a cocktail, hanging with the grandkids and watching a movie.
MG: Pick any three words to describe yourself.
GOV: I would say I'm tenacious. I'm a regular guy and compassionate. I care about people.
MG: Favorite Country singer?
GOV: I have to say Tim McGraw because he's got that song. I like a lot of country singers but let's go with Tim. Can't go wrong!
MG: Favorite college football team?
GOV: It's hard. I'm a lifelong Seminoles fan, but I'm starting to lose hope. I'm a life long Terps basketball fan. I always prefer Terps in basketball and Seminoles in football.
MG: What is your favorite late-night snack if you sneak into the kitchen at the Government house?
GOV: Mike, you can take one look at me and tell I don't do late-night snacks (more laughter).
My body is a temple! My wife has the Government house kitchen on lockdown, so there are no snacks anymore, which I guess I appreciate. It used to be pretty good because they had all kinds of homemade cookies and brownies and ice cream and stuff like that, but I'm trying to swear it off.
MG: If you weren't Governor of Maryland, what would you be doing?
GOV: I think I'd be in business. I love being a businessman. I love the real estate industry, I like putting deals together, bringing people together, it's what I try to do in politics, but if I wasn't Governor, I'd be back doing what I spent thirty years doing.
MG: What's the coolest item in your man cave?
GOV: The big screen TV is the thing that gets the most use, but I've got some cool memorabilia. I've got Ravens jerseys and Terps jerseys, and Orioles jerseys. I've got one Orioles jersey that says 'Hogan Strong' with the number 1 on it, and it's signed by all of the players. They gave it to me when I had cancer, so that's probably my favorite one.
MG: How about in your office at the statehouse? What's the coolest item you have there?
GOV: I've got a lot of cool things, a lot of memorabilia, but it's the guitar from Tim McGraw that's hanging on my wall that says 'Live Life Like You're Dying.'
MG: Last rapid-fire: What do you love most about Maryland?
GOV: I love Maryland.
Other than my time spent in Florida, finishing high school and going to Florida State, I've spent my entire life here. It's America in miniature. We've got everything in Maryland. I love the people, and we have a lot to be proud of.
Legacy
MG: What's Maryland's potential?
GOV: I think the potential for Maryland is unlimited. We've got one of the most educated workforces in America, we've got great universities, we have such diversity of talent and such a strong economy to work from. We have many challenges to overcome at this point, but the sky is the limit.
MG: We're within thirty months of you completing your second term. When they write the book about the Hogan administration, what do you want to be remembered for during those eight years?
GOV: That's a great question. I came into this job with the mission of trying to right the course and put Maryland on a better track. Obviously, with COVID-19, we're a little off of course, but I can't imagine if we hadn't done all the work we did over the past six years what kind of shape we'd be in. It doesn't matter so much the things that people remember about me; I just want people to say that he gave it his best and that we left Maryland in a better place than when we came in. One of the things I'm most proud of is people say to me all of the time, "I don't agree with you on everything, but I think you're straight, you tell it like it is, and you care about Maryland and all the people." If that's my legacy, maybe then I could say, "Mission Accomplished."
---
About Evergreen Advisors
Evergreen Advisors is a boutique middle-market investment bank, and corporate advisory firm focused on servicing organizations throughout their financial lifecycles to drive successful outcomes. For over 20 years, Evergreen has served the Mid-Atlantic region, including Metropolitan Baltimore, Maryland, Metropolitan Washington D.C., Virginia, and Pennsylvania.