Joe Statter, Managing Director and head of the Washington / Northern Virginia office of Evergreen Advisors recently took part in roundtable focused on special purpose acquisition companies, or SPACS. Prior to Evergreen, Joe an investment professional and acting CFO to Capitol Acquisition Corp, a $262m SPAC, which launched in 2007 and merged with Two Harbors Investment Corp to create a REIT. He now advises clients on a range of corporate finance transactions, including SPACs.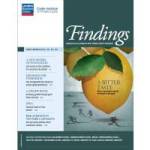 The article discussed how while SPACs have become an increasingly common means of raising capital for private companies over the past decade, many PE houses have been eyeing these structures as a possible exit route or a means of raising capital for single deals. The Private Equity Findings Journal showcases new PE and VC related research from leading international academic thinkers, discussed and challenged by senior academics and practitioners.
A copy of this article can be found in Issue 9.