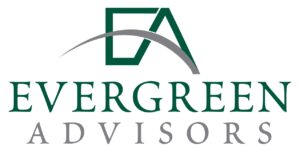 Evergreen Advisors, a leading Investment Bank and Corporate Advisory Firm, is pleased to announce that it has launched a new Corporate Advisory Practice that combines our CFO Advisory, Business Valuation, Corporate Finance, and Strategy Units.
The combined team will provide a multi-disciplinary approach to servicing clients throughout their financial lifecycle and add a range of consulting services to our portfolio. Services in the group include: Strategic CFO Advisory, Accounting and Controller Services, Business Valuation Services, Strategic Planning, and Corporate Finance. Evergreen Advisors has previously been known to offer three categories of services: Investment Banking Services, CFO Advisory Services, and Business Valuation Services. The new Corporate Advisory Practice will allow us to provide a broad range of specialized services to our clients as their needs change. Joe Bradley will head up the Corporate Advisory Practice.
Joe Bradley, President of Corporate Advisory states, "Evergreen has a solid reputation for providing innovative solutions and driving successful outcomes for our clients. We are excited to expand our services throughout our footprint and broaden the smart solutions we provide to middle market companies in the Mid-Atlantic Region."
---
About Evergreen Advisors
Evergreen Advisors is a boutique middle market investment bank and corporate advisory firm focused on servicing organizations throughout their financial lifecycles to drive successful outcomes.  Serving the Mid-Atlantic region including Maryland, Washington D.C., Virginia, and Pennsylvania, Evergreen Advisors was formed in 2001 to provide innovative and strategic solutions to meet our clients' evolving business needs.
Securities transactions conducted through Evergreen Advisors Capital/Member FINRA/SIPC.