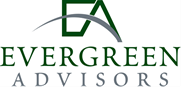 Evergreen is pleased to announce the addition of  new members to our firm since our last newsletter in January of 2016. We are thrilled to continue our expansion in all of our practice groups, and will continue to see more talented professionals to join our ever growing team.
Harris Charalambous joined in April as a VP in the CFO Advisory Practice in our Columbia, Maryland office. He has 20+ years' experience in managing finance and accounting functions with high-growth technology and international companies.
Beth Robison also joined Evergreen in April and is an excellent addition to the Evergreen team. She has taken on the role of Finance Manager and will be responsible for supporting the financial operations of the firms CFO clients by providing accounting, payroll, fixed asset, financial reporting, and budgeting services.
Lastly, Demian Costa has joined our Evergreen Advisory Board. He is Managing Partner of Sagamore Ventures, a privately-held company with diversified holdings in commercial real estate, hospitality, food and beverage and thoroughbred horseracing, all under the Sagamore group of brands.
Rick Kohr, CEO of Evergreen Advisors states, "We are thrilled to have these individuals join the Evergreen team. Their unique experiences and backgrounds will provide Evergreen with invaluable insight into different markets and best practices. It is exciting to watch our firm continue to grow, especially in the Greater Washington area, as we confidently head into a promising future."
________________________________________________________
About Evergreen Advisors
Evergreen Advisors is a leading investment banking and corporate advisory firm focused on assisting emerging growth and middle-market companies in the areas of corporate finance, growth and exit strategies, business valuations and advisory services.  For more information, visit https://evergreenadvisorsllc.com/
Securities transactions conducted through Evergreen Advisors Capital/Member FINRA/SIPC.