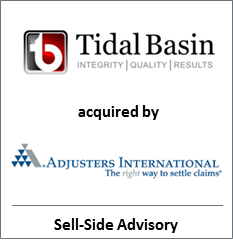 Evergreen Advisors Capital is pleased to announce that it was the exclusive financial advisor to Tidal Basin Group of Alexandria, VA, a national consulting firm specializing in supporting state and local governments and nonprofit organizations with pre- and post-disaster recovery programs.
Tidal Basin Group is divided into three firms: Government Consulting, Federal, and Commercial Services. These firms have provided technical support and expertise in over 100 federally declared disasters throughout the United States. Tidal Basin is headquartered in Alexandria, VA with additional offices in Winchester, VA, New Orleans, LA, Frisco, TX, and Orlando, FL. Evergreen Advisors was the exclusive financial advisor in the acquisition of Tidal Basin by Adjusters International, Inc., based out of Utica, New York.
Terms of the transaction were not disclosed.

---
About Evergreen Advisors
Evergreen Advisors LLC is a leading investment banking and corporate advisory firm focused on assisting emerging growth and middle-market companies in the areas of corporate finance, growth and exit strategies, valuations and advisory services. Serving the Mid-Atlantic region including Maryland, Washington D.C., Virginia, and Pennsylvania, Evergreen Advisors,  was formed in 2001 to provide innovative and strategic solutions to meet our clients' evolving business needs. For more information, visit https://evergreenadvisorsllc.com/ 
Securities transactions conducted through Evergreen Advisors Capital/Member FINRA/SIPC.
About Tidal Basin Group
Headquarted in Alexandria, VA, with offices in LA, TX, and FL, Tidal Basin Group is a national consulting firm specializing in supporting state and local governments and nonprofit organizations with pre- and post-disaster recovery programs. Tidal Basin Group operates three wholly owned subsidiaries: Tidal Basin Government Consulting, LLC; Tidal Basin Federal, LLC; and Tidal Basin Commercial Services, LLC. For more information, visit http://www.tidalbasingroup.com
About Adjusters International
Adjusters International, Inc. is a disaster recovery consulting organization focused on the principles of maximizing and expediting their clients' financial recovery from insurance and FEMA claims. The organization was founded in 1985 and is based in Utica, New York with regional offices in the United States. For more information, visit www.adjustersinternational.com