Evergreen Advisors is attending the ACG National Capital 21st Mid-Atlantic Growth Conference on March 9th and 10th. The upcoming 21st Mid-Atlantic Growth Conference, Washington Technology Showcase and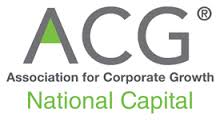 DealSource will feature the first ever Washington Technology Showcase, which aims to highlight some of the Washington area's most promising technology companies. The two-day event will also feature keynote presentations from David Falk founder of F.A.M.E. and Michael Chasen, SocialRadar CEO and former Blackboard Co-Founder and CEO.
About Evergreen Advisors
Evergreen Advisors is a boutique middle market investment bank and corporate advisory firm focused on servicing organizations throughout their financial lifecycles to drive successful outcomes.  Serving the Mid-Atlantic region including Maryland, Washington D.C., Virginia, and Pennsylvania, Evergreen Advisors,  was formed in 2001 to provide innovative and strategic solutions to meet our clients' evolving business needs.
Securities transactions conducted through Evergreen Advisors Capital/Member FINRA/SIPC.