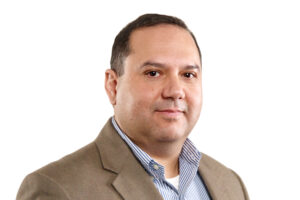 Harris is a Vice President in Evergreen Advisors' CFO Advisory practice. He is based out of the Columbia office and has added his international background knowledge to our firm upon his start with Evergreen in April. We asked Harris a few quick questions to learn more about what he is working on and who he is working with here at Evergreen.
1. Tell us how your international background helps with your current clients?
Several of our clients are expanding internationally both in EMEA and APAC.
Having launched several international operations in the past, I am able to provide advice and guidance as to how to approach setting up international entities, hiring employees, opening bank accounts, and setting up accounting operations, while at the same time being compliant with local regulations.
2. What industries are you currently working within? 
I am mostly working with technology companies with a focus on cyber.
3. What have you enjoyed most about being at Evergreen since you joined in April?
I have enjoyed working with the Evergreen team the most. Evergreen has a team of very motivated and talented individuals that are very driven and client focused. This is exactly what I like to see in a service provider organization.
4. How do you see the CFO practice group expanding within the next year?
As we continue to build the CFO practice, I see us adding new clients while at the same time expanding the areas of support that we can provide.
We accomplish this by continuing to enhance the skills of our existing team members and leveraging expertise that is already available in house.
Evergreen's CFO Advisory Practice serves early stage and growing businesses that need quality financial management, strategic guidance, and development and maintenance of back-office infrastructure. For more information on our CFO Services visit www.evergreenadvisorsllc.com or call us at 410.997.6000